Stake History
2019 Stake Center Fire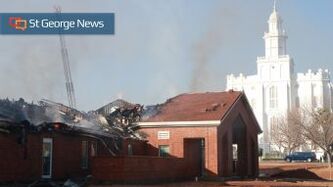 ST. GEORGE — A nearly-completed chapel of The Church of Jesus Christ of Latter-day Saints located just east of the St. George Latter-day Saint temple was destroyed by a fire early Saturday. The new chapel, which was being built to replace an aging building that was torn down last year, was to serve as the stake center, or primary chapel, of the Latter-day Saint church's St. George East Stake.
While a fire was reported over 911 around 1:15 a.m. Saturday, St. George Fire Chief Robert Stoker said security cameras on the temple grounds across the street picked up signs of the fire possibly burning for an hour before that. When the firefighters arrived in the area of 300 East and 400 South where the church is located, they found signs of a fire coming from the attic in the southeastern corner of the building. Fire crews were sent into the building and there were only signs of light smoke and no flames at first, but then the roof and ceiling started to cave in due to the attic fire. The firefighters were pulled out of the building and they began to mount a defensive attack on the fire from the outside, Stoker said.
As the fire progressed, it ran from the eastern end of the building to the western end where the chapel's steeple was located. Along the path of the fire loud pops and crashes were heard as the roof collapsed bit by bit. As the hours wore on, the fire engulfed the building and the steeple began to lean backward until it eventually gave way and fell into the burning structure.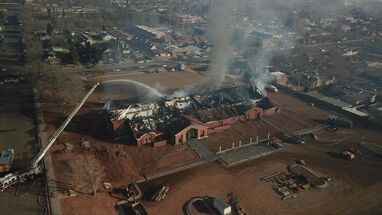 Aiding the St. George Fire Department were the Washington City and Santa Clara-Ivins fire departments. The Hurricane Valley Fire District also responded to a call for aid by moving firetrucks and crews into parts of Washington City and eastern St. George, so they could provide cover for those areas while the other fire departments fought the blaze at the stake center.
After hours of dealing with the fire, it began to die down some by 4 a.m. However, small sections of the church remained aflame and were continuously blasted with water by the fire crews that surrounded the building. As of 6 a.m. when Stoker spoke with St. George News, he anticipated fire crews would continue to fight the remnants of the fire for much of the day. By that time, while part of the church was still burning, the overall building had been gutted by the flames.
See Also
References
↑ St George Stake Center Fire StGeorgeUtah.com