Stake History
2020 Stake Creation
The Church organized a new stake in Nampa, Idaho on November 22nd. 26. Nampa Idaho Ridgevue Stake was organized on November 22nd, 2020 from a division of the Nampa Idaho North Stake and the Nampa Idaho West Stake. The new stake includes the following seven wards: the Nampa 1st, Nampa 3rd, Nampa 4th, Nampa 12th, Nampa 13th, Nampa 36th, and Nampa 41st Wards. There are now six stakes in Nampa. There are now 135 stakes in Idaho.[1]
A new stake has been created from the Nampa Idaho North and Nampa Idaho West stakes. The Nampa Idaho Ridgevue Stake, which consists of the Nampa 1st, Nampa 3rd, Nampa 4th, Nampa 12th, Nampa 13th, Nampa 36th and Nampa 41st wards, was created by Elder Kevin W. Pearson, General Authority Seventy, and Elder Michael D. Jones, an Area Seventy.[2]
NAMPA IDAHO RIDGEVUE STAKE: (November 22, 2020) President — Reid Trent Stephan, 48, St. Luke's Health System vice president and chief information officer; wife, Michelle Beth Nelson Stephan. Counselors — Henry Medel, 55, USPS postmaster; wife, Willa Mae Kotter Medel. Craig Alan Hanks, 44, Amalgamated Sugar chief financial officer and treasurer; wife, Karene Thompson Hanks.
Canyon County Home Centered Church Opportunities
We teach that true religion begins in the home: "Home Centered / Church Supported". To that end families may consider the following local resources and programs to strengthen your core beliefs and values:

1. Come Follow Me: - Daily & Weekly family gospel study
2. Vanguard Scouting: - Featuring age-appropriate Family Activities, Service, Crafts, Field Trips, & Outdoor Adventures. The Benefits of Scouting are many, and there are lots of personal growth ideas to help your family pursue the new Churchwide Children & Youth Program.
3. LIFE School Curriculum: an LDS gospel based homeschool program that is built on the foundation of the scriptures, giving the child a sense of who he is and setting him on the path of discovering his divine mission. It is presented in a four year chronological rotation, integrating all areas of study to create a clear picture of the history of our world.
4. Family History: Resources to help you explore your family tree
Mormon Pioneers - 200+ stories of early faithful Latter-day Saint pioneers.
Familypedia - Come help build Idaho's largest Family History online Encyclopedia.

5. Local Recreation: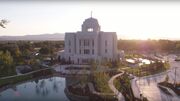 The Meridian Idaho Temple is the 158th operating temple of The Church of Jesus Christ of Latter-day Saints. It is the fifth temple built in Idaho located on the western edge of the Snake River's Treasure Valley. It is one of six temples built with no towers or spires.
See Also
References
Community content is available under
CC-BY-SA
unless otherwise noted.