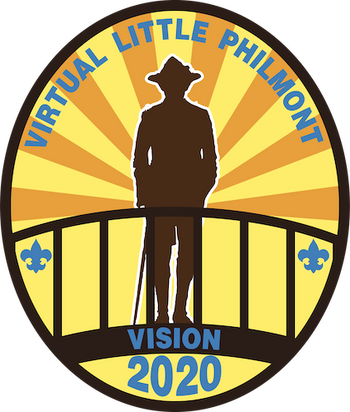 New LDS-BSA Religious Scouting Awards Revealed
Awards program open to all boys and girls of the church
NEWS ARTICLE : 16-MAY-2020 - Over 600 member of The Church of Jesus Christ of Latter-day Saints conclude an annual conference of the Vanguard International Scouting Association (VISA). Among the many highlights of this two-day conference (called "Little Philmont") was the recognition that this is the first such gathering of LDS Scouting supporters in a capacity totally independent of any church calling since its withdrawal as an official scouting partner at the start of the new year. Participants were mostly from across the United States but there were some from Asia and South America. Because of the current Covid-19 prohibition on large gatherings, the entire event was held online.[1]
Certainly the big news was the long-awaited announcement of a new set of Scouting Awards available for LDS youth and adults to replace the church's expired "On My Honor Award". [2] Encouraging scouts of all faiths to pursue their "Duty to God" and "A Scout is Reverent" are key elements of the scouting program. Both boys and girls in the church are able to earn this award and the conference watched a video of youth who had worked in the related pilot program earlier this year. The award for younger children is called Light & Truth Award and the award for older youth and adults is called "Vanguard Award". (See the hotlink at bottom for more details on this new program.)
In introducing this new award program the conference discussed the recent changes in the youth programs of both the Church and Scouting noting that while change was inevitable, both organizations have remained true to their core principles; the Church still strictly follows the "Ten Commandments" and "The Articles of Faith", and likewise the Boy Scouts of America remains firmly committed to the ideals enshrined in its "Scout Oath" and "Scout Law".
And while all aspects of other church programs are uniform around the globe, their new "2020 Initiative for Children and Youth" finally gave them a uniform program for both boys and girls of all nationalities for the first time in the 190 year history of the church. Simiarly at the same time BSA also opened up its program to girls of all ages, meeting a long time request of many, many large families to have one place to go for all of their scouting activities. Both organizations have made great strides in the last year to be more inclusive to youth regardless of faith, gender or orientation - inviting all to come that want to learn and participate in their values and principles.
A related major topic of the conference was a review of the several recent announcements of the Church to encourage members to build bridges with the community and those of other faiths that share similar values. Including recent chuch outreach efforts and joint service projects, uniting with Catholics, Muslims and even members of the LGBTQ communities. Both programs still remain true to the standard set forth in the Church's Family Proclamation to help families pursue "principles of faith, prayer, repentance, forgiveness, respect, love, compassion, work, and wholesome recreational activities. "
Many stories were shared from participants of the challenges and successes of starting a successor scouting unit for LDS families in their community, (these units are often referred to as LDS Legacy units). Other stories were told of LDS boys and girls who are now participating in traditional scoutings units in their community. It was noted that a goodly number of the new LDS Legacy units were having a much higher recruitment rate than traditional scouting units, including some very successful units in California, Utah, Arizona and Idaho. Conversely it was noted that there are still many LDS communities that are currently not served by any scouting unit and we are seeing a large number of families traveling long distances today to participate in the program. It is expected that LDS Legacy scouting will continue to see strong growth as member families in the US, Canada and around the world become aware of its availability.
Another major topic of the hour was a discussion on the current Covid-19 pandemic that has forced many schools, sports and other youth programs to go dark. But inspite of that, many scouting programs have been able to rally and to hold a number of zoom-games, learning activities and service projects online.[3]
Special notice was given to Dr. Richard Preece of Vista, California who was recognized for his 77 years of continual service to both scouting and the LDS church. His career as a dentist in the U.S. Navy took him and his family to many duty stations around the country but at every new home he always quickly found a new church calling and a new scouting volunteer position -(and it was not always the same job.)[4]
Vanguard International Scouting Association was organized earlier this year to replace the Church as the official representative of Latter-day Saint scouts around the world. It is the only such group recognized to do so by BSA. In its first two months of operation, membership was grown dramatically to over 500. Its leader is Charles W. Dahlquist II, an American attorney that served in the church as a former stake president and as the 20th General President of the Young Men Organization of the LDS Church. Afterwards he then went on to serve several years as National Commissioner of the Boy Scouts of America.
Conference co-hosts were Mark and Nettie Francis. Mark is a scouting executive and former director of the LDS-BSA Relationship Office in Salt Lake City. Earlier this year he started a new assignment as Scout Executive of the BSA Far East Council based in Okinawa, Japan. They have ten children, all of whom enjoy the scouting program with their two oldest boys already earning the rank of Eagle Scout. Last year they organized a new LDS Legacy unit near their home that meets weekly in a large barn on the outskirts of Salt Lake City.
It should be noted that these new LDS Scouting religious awards, while not formally endorsed by the church, were developed in close coordination with the church to ensure that the requirements of the new program ran in close harmony with the ideals of the new church youth program which gives particular emphasize personal growth in areas of spiritual, social, physical and mental skills.
This conference hopes to meet again next year in person at BSA's famous Philmont Scout Ranch located in the New Mexico wilderness.
See Also
References
Community content is available under
CC-BY-SA
unless otherwise noted.