2019 Calendar of Events for The Church of Jesus Christ of Latter-day Saints
Ongoing
The Kinshasa Democratic Republic of the Congo (April 14), Fortaleza Brazil (June 2) and Port-au-Prince Haiti (September 1) Temples are scheduled for dedication this year. The Memphis Tennessee (May 5), Oklahoma City Oklahoma (May 19) and Oakland California (June 16) Temples are scheduled for rededication. Eight temples are being renovated, including the Asunción Paraguay, Baton Rouge Louisiana, Frankfurt Germany, Hamilton New Zealand, Mesa Arizona, Raleigh North Carolina, Tokyo Japan and Washington D.C. Temples. Houses of the Lord under renovation are considered operating temples.
January
February
March
April
General Conference Edition
April News Items
May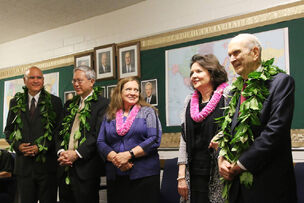 05 May 2019 : New Stakes of the church Created -
6: Church automatically opens BYU Pathways to all returned missionaries - As a result of the recent approval for virtual gatherings worldwide, BYU-Pathway Worldwide and The Church of Jesus Christ of Latter-day Saints have announced a new initiative to help missionaries who have served the Church from around the world.
6: Church changes policy on Civil Marriages - Couples Married Civilly Now Authorized for Immediate Temple Marriage - updates policy for US & Canada marriages to follow that in place for most other countries.
5/11-6/1 : Oakland California Temple - Renovation Open House Tours
11: Church Honors NAACP - for Advancing Equality and Justice in Society, presented by Elder Stevenson of the Twelve.
15: Church donates $4MM for refugee relief - Latter-day Saint Charities Provides $4 Million Donation to US Refugee Resettlement Agencies.
16-25: Pres Nelson's Pacific Tour - President Russell M. Nelson of The Church of Jesus Christ of Latter-day Saints is visiting Latter-day Saints and others in the Pacific from May 16, 2019, to May 25, 2019. He and Elder Gerrit W. Gong of the Quorum of the Twelve Apostles are visiting Hawaii, Samoa, Australia, New Zealand, Fiji, Tonga and Tahiti.
June
July
July 9 - Aug 3 : Nauvoo Pageant & British Pageant - Each summer, a cast and crew of more than 1,100 volunteers bring the early history of The Church of Jesus Christ of Latter-day Saints in the United States and England to life in two musical productions—the Nauvoo Pageant and the British Pageant. Both pageants feature scripts based on actual journals and historic records from the 1800s, as well as traditional and original music.
September
9 : 95th Birthday of Church President Russell M. Nelson (b. 1924)
29: 2020 Youth Program Launch = Orientation Session to be held 2nd hour for all Wards.
October
6-7 : 189th Semi-Annual General Conference of the Church
November
17: Face to Face for 2020 Youth Initiative - Featuring YM, YW and Primary General Presidencies
December
2 : First Presidency Christmas Devotional
29 : Salt Lake Temple to Close - Four year Renovation plan to start.
31 : Faith in God Final Day - last day for primary children to complete requirements prior to program termination
31 : Young Women's Medallion Final Day - last day for LDS Young Women to complete requirements prior to program termination
31 : LDS-BSA Eagle Scout Final - last day for LDS Young Men tto complete requirements under LDS-BSA Registration prior to program termination
See Also
References